There's an episode of Adventure Time where we see that Finn is an abused 12 year-old inner city kid living in the American 90's. When his dog Jake, his only friend in the world, is killed by bullies the last shred of his sanity is destroyed. After several violent outbreaks at school, Finn is committed to a juvenile mental care facility where he befriends other broken and discarded children like himself. His violent impulses and his distrust of authority/parental figures lead him to escape the facility on several occasions - each one a special "adventure" in his own mind. The facility medicates Finn to the point that his entire perception of reality becomes the stuff of candy creatures, gruesome monsters, and magical relics. It gets so bad that he begins to believe Jake is alive again, fighting and questing by his side. The episode ends with Finn getting his hands on a bottle of anti-freeze, yelling "Princess Bubblegum! I found the magic potion, you've gotta drink it!" and pouring it into the mouth of a girl strapped to an operating table for a lobotomy.
This is the only screenshot I could find from this episode. It's from the part where Finn gives Jake a "street burial" by pushing his body down into the sewer. Ugh, I wish there was a gif or webm of this or something, such a powerful scene...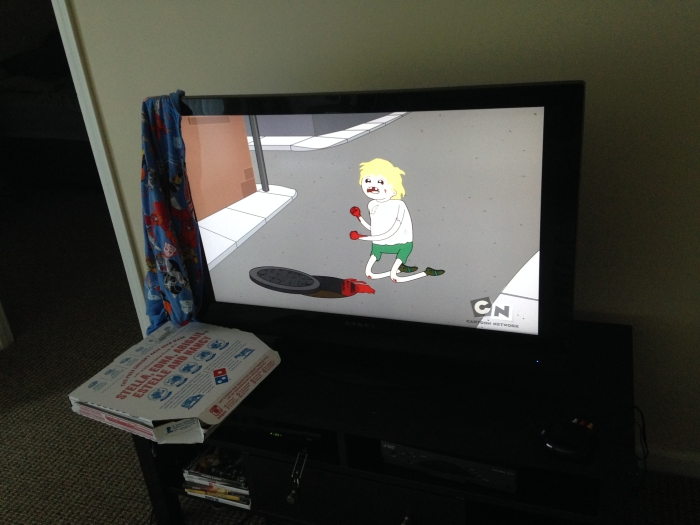 This was a pretty harsh episode, it's been months since I've seen it but I'm still rattled. If you've seen this one and wanna talk about it, I guess this is as good a place as any. The show was so chill, fuck...